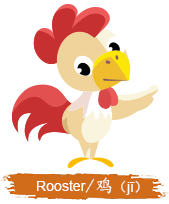 SPECIAL CHINESE NEW YEAR STORYTIME/CRAFT – AGES 3-9
10 A.M. OR 4:30 P.M. Tuesday January 31st
Join us for a Storytime/Craft celebrating the Year of the Rooster and our area's wonderful diversity. We'll also create noisemakers and parade around the library!
No registration required.
Music: Multicultural Movement Fun (Kimbo): #17 – Chinese New Year Dancing Dragon
Book: Bringing in the New Year by Grace Lin (younger) or This Next New Year by Janet S. Wong (only if older 4's & 5's)
Action Song: (Wash your) Head Shoulders Knees & Toes (get clean & ready for the new year)
2017: Year of the Rooster stories :
Book: Cock a Doodle Moo by Bernard Most
Action Song: "Chicken Dance" (hand motions "beaks" with fingers, flap arms, wiggle bottom and knees, clap…then swing from child to child around the room.
Book: Chicken Story Time by Sandy Asher
Puppets/Song: "Cluck Cluck Red Hen" (Raffi)
Book: Minerva Louise by Janet Morgan Stoeke (Alternates: Charlie Chick by Nick Denchfield or The Red Hen by Rebecca & Ed Emberley or Big Fat Hen by Keith Baker or Here a Chick, Where a Chick by Suse McDonald)
Song/Shakey Eggs: "I Know a Chicken" The best of the Laurie Berkner Band [music CD].

Oh, I know a chicken and she laid an egg
Oh, I know a chicken and she laid an egg
Oh my goodness, it's a shaky egg!
Shake your eggs!
(Fast, slow, circle, etc.)

Fold Out Book: The Dancing Dragon by Marcia Vaughan
Crafts:
Music shakers: kid used markers to decorate outside (bottom) of 5" paper plate, then folded in half, stapled 3/4 way around, poured in rice and finished stapling. Added curly ribbon decorations.
Dragon/Lion dance "head": Kids used markers (optional construction paper & gluesticks not used because crowd was large) to decorate yellow bulletin board paper (about the size of a tablecloth) which we used for our parade around the library. – used music from Lion Dance on Youtube.
Optional VHS to show while crafting: Reading Rainbow: Liang and the Magic Paintbrush.
Additional Song Possibilities: Dan Zane's "All Around the Kitchen," Pete Seeger's "I Had a Rooster," "The Old Hen Cackled and the Rooster Lay the Egg" on The Best of the Land of Nod v. 1
1.2017
https://storytimehooligans.wordpress.com/2013/10/17/chickens-storytime/
https://storytimekatie.com/2012/05/21/chickens/