Farm Frolics -- Fun storytime geared for ages 2-6
Also suitable for presentation at County Fairs and other outreach locations.
Includes animal sounds, shape identification, classic folk tales and lots of songs and participatory activities.
Book: Morning by Maria Robbin Polushkin (this older title still makes a great participatory book – kids help make farm noises as each animal wakes the next, finally the boy's breakfast (with messy kitchen) is a bit of a "rude awakening" to his parents.)
Note: This and some other books I love might not be widely available – many other possibilities are listed below the program.

Song/puppets: "Cluck Cluck Red Hen" from Raffi's Singable Songs Collection.(mention concept of a piggyback song.)
Lyrics here: http://lyrics.wikia.com/Raffi:Cluck,_Cluck,_Red_Hen
Book: A Squash and a Squeeze by Julia Donaldson (variation of the old folktale, a woman complains that her house is too small until a wise old man suggests she bring in her chicken, goat, pig and cow! – great refrain to do with the kids, can also act this out with the kids holding puppets). I chant this with the kids but there is also a musical version available here: https://www.youtube.com/watch?v=-tI0bQ-A-H0
Singable Book: Sitting on the Farm by Bob King (another fun book with great repeating lines, kids love finding the unusual locations for the telephones) A musical version is here: https://www.youtube.com/watch?v=-vJyfzWrsxo (I use a slightly different tune.)
Guessing Game Book: Color Farm by Lois Ehlert (colorful die-cut book which introduces kids to some of the more unusual shape names e.g. hexagon & oval) Spots, Feathers & Curly Tales by Nancy Tafuri good for younger groups.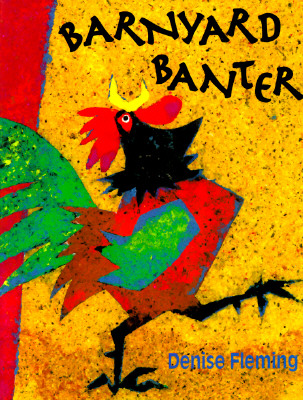 Singable Book: Barnyard Banter by Denise Fleming (I sing this to the tune "Skip to My Lou My Darling.")
Flannel (or book): Very Busy Spider -- Eric Carle (one by one, the animals ask spider to join them but she is too busy…until she finally catches that fly.)
"Spider catches the fly in her web, but I know someone else who catches a fly a different way (opening my mouth very wide as a clue) – anyone know who that is?"
Song/Prop: I Know an Old Lady Who Swallowed a Fly
DVD: Click Clack Moo (on Weston Woods 50th Anniversary Collection (PPR)
Here are some other favorites:
The Mixed Up Rooster by Pamela Duncan Edwards (a rooster who has trouble waking up in the morning eventually finds his calling as a night watchman)
The Cow Who Clucked by Denise Fleming (great artwork)
The Day Jimmy's Boa Ate the Wash by Trinka Hakes Nobel (school field trip goes haywire when a pet boa comes along!)
Rooster Can't Cock a Doodle Doo by Karen Rostoker-Gruber (longer book, only good for older groups)
Serious Farm by Tim Egan (Farmer and his animals find work is more fun when you can laugh)
McGillycuddy Could! by Pamela Edwards (McGillicuddy the kangaroo cannot produce wool or milk or lay eggs, but finds he still can bring special skills to the farm.)
Silly Sally by Audrey Wood (Silly Sally is joined by many farm animals on her way to town, upside down!)
Farmer Duck by MartinWaddell (Farmer gets his comeuppance after he makes Duck do all the work!)
The Big Sneeze by Ruth Brown (A farmer causes general havoc when he sneezes a fly off his nose)
Punk Farm by Jarrett Krosoczka (The farm animals form a band to serenade the farmer at the end of the day.)
The Little Rabbit Who Liked to Say Moo by Jonathan Allen (cute title for younger groups)
Dooby Dooby Moo by Denise Cronin (While Farmer Brown is asleep, his animals practice for a talent show with the goal of winning a trampoline in this hilarious romp from the author of Click Clack Moo.)
Chickens to the Rescue by John Himmelman (Enterprising chickens help out with mishaps on the farm)
Ragweed's Farm Dog Handbook (Learn from the Best!) by Anne Vittur Kennedy (Ragweed the dog matter-of-factly explains a farm dog's day in this deadpan story.)
The Rooster Who Would Not Be Quiet by Carmen Agra Deedy
Lyrics:
Cluck Cluck Red Hen -- from Raffi's album "The Corner Grocery Store"
Song on Raffi's album "The Corner Grocery Store" (tune: "Baa Baa Black Sheep") (fun to do with puppets or flannels) (animals, birds, farm, food)
Baa, Baa, Black Sheep, have you any wool?
Yes sir, yes sir, three bags full.
One for your sweater and one for your rug,
And one for your blanket to keep you warm and snug.
(repeat first two lines)
Cluck, Cluck, Red Hen, have you any eggs?
Yes sir, yes sir, as many as your legs.
One for your breakfast and one for your lunch,
Come back tomorrow, I'll have another bunch.
(repeat first two lines)
Moo, Moo, Brown Cow, have you milk for me?
Yes sir, yes sir, as tasty as can be.
Churn it into butter, make it into cheese,
Freeze it into ice-cream or drink it if you please.
(repeat first two lines)
Buzz, Buzz, Busy Bee, is your honey sweet?
Yes sir, yes sir, sweet enough to eat.
Honey on your muffin, honey on your cake,
Honey by the spoonful, as much as I can make.
(repeat first two lines)
D-A-I-S-Y (sung to traditional song "BINGO") (Farm Frolics)
(Use magnet or feltboard letters and remove one each verse)
There was a farmer had a cow
And Daisy was her name-O
D-A-I-S-Y, D-A-I-S-Y, D-A-I-S-Y
And Daisy was her name-O(repeat verse, replacing one letter with a clap each time through)
Farm Sounds
(tune: "The Wheels on the Bus")
The cow in the barn goes "moo moo moo"
"moo moo moo", "moo moo moo"
The cow in the barn goes "moo moo moo"
All around the farm.
…pigs in the pen go oink, oink, oink…
… hens in the coop go cluck, cluck, cluck…
… rooster on the fence goes cock-a-doodle doo…
… ducks in the pond say quack, quack, quack…
… lambs on the hill go baa, baa, baa…
… bunnies in the hutch go (silently wiggle nose with finger), etc.
Farmer In The Dell
The farmer in the dell,
The farmer in the dell,
Heigh-ho the cherry-o
The farmer in the dell.
The farmer takes a wife…
The wife takes a child…
The child takes a nurse…
The nurse takes a dog…
The dog takes a cat…
The cat takes a rat…
The rat takes the cheese…
The cheese stands alone…
I Know An Old Lady Who Swallowed a Fly
Lyrics by Rose Bonne, with music by Alan Mills *
Song on "Peter, Paul , and Mommy, Too"
I know an old lady who swallowed a fly,
I don't know why she swallowed the fly,
Perhaps she'll die.
I know an old lady who swallowed a spider,
That wiggled and jiggled and tickled inside her.
She swallowed the spider to catch the fly,
I don't know why…
…bird / How absurd to swallow a bird…
…cat / Imagine that -- to swallow a cat!
…dog / What a hog, to swallow a dog!…
…goat / She opened her throat and in walked that goat…
…cow / I don't know how she swallowed a cow…
I know an old lady who swallowed a horse--(pause) (spoken) She's dead, of course!
Old MacDonald
Old MacDonald had a farm, E-I-E-I-O
And on his farm he had a cow, E-I-E-I-O
With a moo-moo here and moo-moo there,
Here a moo, there a moo, everywhere a moo-moo,
Old MacDonald had a farm, E-I-E-I-O.
…and so on with a duck,a pig, a cow, a horse, a donkey, and some chickens, etc.
Piglets Squealing
Sung to: "Down by the Station"
Out in the barnyard,
Early in the morning,
You can hear the piglets
Squealing up a storm.
Here comes the momma pig,
She will feed her babies,
Oink, oink, oink, oink,
On the farm.
Continue with other farm animals.
The Squishy-Squooshy
Sung to: "The Hokey-Pokey"
Pretend that you are a pig and there is a big mud puddle in front of you. Oooo-ooo glorious mud!
You put your in.
You take your out.
You put your in and you moosh it all about.
You do the squishy-squooshy and you turn your self around.
That's what it's all about!
1) left hoof 2) right hoof 3) pig foot 4) piggy snout 5) pig belly 6) curly tail
7) whole piggy self
4.15 BWL